Last Updated on August 11, 2021
Some of the links on this page are affiliate links. That means that if you click through and take action, I will receive compensation.
If you use FeedBurner on your website, you may have received an email that said:
Now starting in mid August, we are transitioning FeedBurner onto a more stable, modern infrastructure. This will keep the product up and running for all users, but it also means that we will be turning down most non-core feed management features, including email subscriptions, at that time.
What this means is that FeedBurner will still work for reading RSS feeds.  However, FeedBurner will no longer send out emails about new blog posts.  You'll need to find another solution for that.
Keep reading to learn what I'll be doing with my own FeedBurner subscribers.
History of FeedBurner
FeedBurner was founded in 2004.  They offered several services, but one of their most popular was a service that allowed people to subscribe to a website's RSS feed. The free service made it easy for readers to subscribe to be notified about new blog posts on websites.
In 2007, Google bought FeedBurner for a rumored price of $100 million.
Google has made some changes to FeedBurner over the years.  However, the email subscription service continued to work for existing FeedBurner users.  That's scheduled to change later this month.
FeedBurner Alternative
If you're using FeedBurner, I urge you to download the list of your FeedBurner subscribers (more about that below) and add that list to another subscription service.
One key to long-term survival as a website owner is redundancy.  You need multiple income streams and multiple traffic sources.  A newsletter list is an effective way of bringing traffic to your website.
So what's a good FeedBurner alternative?  I recommend AWeber. They have a free plan for lists of 500 or less.  They also can handle large lists.
I've worked with a lot of newsletter services and AWeber is by far the best.  The thing I really appreciate about them is their customer support.
I have multiple websites and most of them have email lists.  The combined list size is almost 5,000 contacts.  AWeber has great technical support and offers a lot of services including:
HTML emails
RSS to email
Professional images you can use in your emails
Hundreds of email templates
Drag-and-drop email builder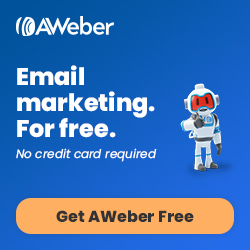 How to Download Your FeedBurner Subscribers
Log into your FeedBurner account.
Click on the feed title that you'd like to download.
On the Analyze tab, select Subscribers.
Scroll down until you see FeedBurner Email Subscriptions.  Click on that.
Select Manage Your Email Subscriber List.  That takes you to another page.
Under View Subscriber Details, click on CSV.  (It's next to Export.)